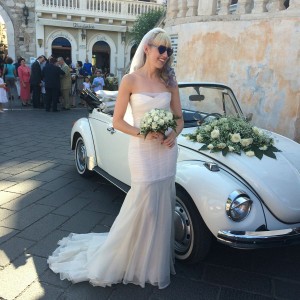 I can highly recommend Luda as a London based tailor for wedding dress modifications.
Luda is professional, very knowledgeable with wedding dress fabrics, has a great vision on how to make a dress look tailor-made on a bride, and provides reasonable pricing for her service.
She worked on my dress which was a sample piece by the Italian designer "Le Spose di Gio". The dress was gorgeous but needed quite a bit of custom work to make it more fitted for my body.
In addition to the usual alterations, Luda & I came up with some modifications to make the dress even more personalised. I wanted to transform the dress from a "day look" to a "night look", so she came up with the idea of creating a removable front panel (secured by poppers) out of the bottom layer of organza from my dress. She also modified the bottom layer of my dress so that a bit of my legs would cheekily show when I walked. On my wedding day, I never felt so gorgeous and glamorous in my life! And it was the dress that did it! There's no way that dress would have been as stunning and unique without Luda's work. I'm so incredibly grateful!
Izabelle