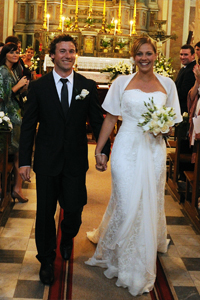 Luda's work is second to none.  I contacted Luda after seeing how professional and incredibly good the alterations to my sister's wedding gown were and must say, I was not disappointed when Luda started working on my own wedding dress and in addition, a wrap to cover my shoulders in the church. Luda had also previously undertook alterations to a bridesmaid dress of mine and again, her work was amazing.
Luda's experience in dress making coupled with her warm smile and friendly nature make for having alterations a breeze.  She is so easy to deal with and I have no hesitation in recommending her to anyone looking to have any item of clothing made or altered, particularly wedding dresses where she excels.  I would definitely use Luda again for all future dressmaking requirements.
Katie
Katie needed her dress taken in and shortened. She was thrilled with the fit.