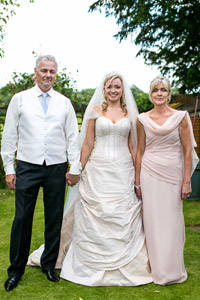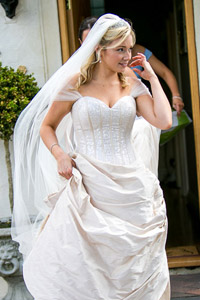 I honestly cannot speak highly enough of Luda! After trying on lots of wedding dresses in the hunt for the perfect one, I found a sample Ian Stuart dress that was at least two sizes too big for me!
Thankfully, Luda stepped in and literally took the bodice of my dress apart and then put it back together again – including the painstaking job of sewing back on hundreds of tiny sequins.

Luda is an extremely talented and dedicated seamstress. Without her sharing our vision and adding her own expertise, I would never have ended up with the fairytale dress and veil I'd always dreamed of. When my mum's dress came back badly finished from the company we'd ordered it from, Luda even stepped in and worked her magic on that too. She really is a magician!
Thank you so much, Luda, for all your hard work and patience. I count myself very lucky to have found not just a very talented and capable seamstress, but a wonderfully warm and lovely person who made the experience such a pleasure.
Lots of love – Hayley (and Jackie) xxx
We had to take in on beaded bodice and shorten hem and make a ruched tull train to be attached to the rear of the skirt to create a classic victorian look. Detachable tull straps also were made to mutch the  train , so the bride could remove them  to provide a bare shouldered look for the evening reception. This was set off by a cathedral lenght tull veil  in keeping with the victorian style of  dress.